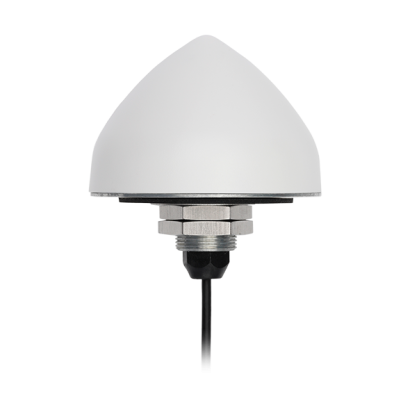 TW5382 Smart GNSS Antenna for High Accuracy Timing
Coverage
GPS/QZSS-L1, GPS/QZSS-L2, GLONASS-G1, GLONASS-G2, Galileo-E1, Galileo-E5b, BeiDou-B1, BeiDou-B2
Overview
The TW5382 is a multi-band, multi-constellation integrated GNSS receiver/antenna designed to meet the strictest timing synchronization requirements in 5G mobile networks.
The state-of-the-art GNSS receiver supports concurrent tracking of all four major constellations in multiple frequency bands. The multi-band capability reduces timing errors under clear skies to less than 5ns without the need for an external GNSS correction service.
The integrated dual feed Accutenna™ greatly improves the rejection of multi-path signal interference.
The TW5382 offers an optional master and slave configuration that features a differential timing mode that exchanges correction data with a neighboring TW5382 timing receiver via a RS-485 communication link. Under optimal conditions the timing accuracy can be further improved to less than 2.5ns.
Features
Improved noise immunity with multi-band GNSS receiver
Improved multi-path rejection with Dual feed Accutenna™
Multi-band GNSS receiver is unaffected by ionospheric errors
High reliability timing with expansive constellation array
Exceptional timing performance without correction services
T-RAIM to support the highest level of timing integrity
Broad 5V-36V operation
RS-485 differential signalling
Industrial grade IP67 enclosure
Rugged fixed mount
Multipe cable lengths (5m, 15m, 25m)
Available with conical radome