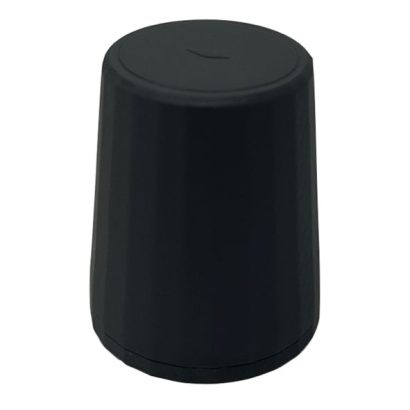 HCS885XF Smart Helical GNSS Antenna for High Accuracy UAV
Antennas
Coverage
GPS/QZSS-L1 C/A, GPS/QZSS-L5, GLONASS-L1OF, Galileo E1-B/C/E5a, BeiDou B1l/B2a, SBAS L1 C/A
Smart Antenna
Connector Options
6 Position Receptacle Connector JST, 1.25 mm
Back to Antennas
Overview
The HCS885XF is a multi-band (L1/L5), multi-constellation integrated GNSS receiver/antenna with RTK corrections and PointPerfect® PPP-RTK augmentation compatibility. The HCS885XF is capable of providing sub 1 meter accuracy stand-alone, sub 1 cm accuracy with RTK corrections and sub 10 cm accuracy with PPP-RTK corrections. It is based on the Tallysman HC885SXF antenna, making it light-weight and very suited for unmanned aerial vehicle (UAV) applications that require precise location and precise heading.
Features
Improved noise immunity with multi-band GNSS receiver
Excellent RH circular polarized signal reception
Multi-band receiver has high immunity to ionospheric errors
Lightweight precision-tuned helical element with excellent axial ratios and Tallysman eXtended Filtering
Extreme lightweight (38 g) embedded packaging
Exceptional position performance (Stand-alone or corrected)
Benefits
PPP-RTK: PointPerfect® Augmentation
RTK Base/Rover configurations and Moving Base Heading
CMOS signalling with RS232 option
Industrial-grade IP67 enclosure
Surface Mount with O-ring seal
6-pin JST port for Pixhawk standard compatibility
---
Details
Interference Resilience
The HCS885XF incorporates the latest generation multi-band (L1/L5) GNSS receiver with a precision-tuned multi-band Tallysman antenna (L1/L5) that provides excellent axial ratios and operates without the requirement for a ground plane. The state of the art GNSS receiver supports concurrent tracking of all four major constellations (GPS, BeiDou, Galileo and GLONASS ) in multiple frequency bands. The concurrent multi-band (L1/L5) access to all four satellite constellations improves the receiver's convergence capability to deliver a quick, precise and reliable position solution.
The multi-band architecture is the most effective method for the removal of ionospheric error, and the L5 band provides superior interference and multipath performance vs. L2. The HCS885XF employs Tallysman eXtended Filter (XF) technology, which mitigates near-band and out-of-band interference, such as LTE signals and their harmonics, enabling operation in the most challenging deployments.
PPP-RTK, RTK and Heading
The HCS885XF offers support for corrections services (PPP-RTK – PointPerfect) or RTK base/rover corrections, allowing performance optimization according to an application's unique requirements. The HCS885XF can be configured as a multi-receiver pair for moving base precise heading applications. HCS88XF mounts flush with three threaded inserts for secure attachment and provides a rubber O-ring around the outer edge for seal. Control, corrections and position output are delivered over a 6 pin JST receptacle connector inset into the base.
---
Specifications
Part Number: 33-HCS885XF-xx
---
Drawings