Tallysman introduces the housed HC871SXF Short, eXtended Filter, dual-band GNSS Helical Antenna
May 8, 2023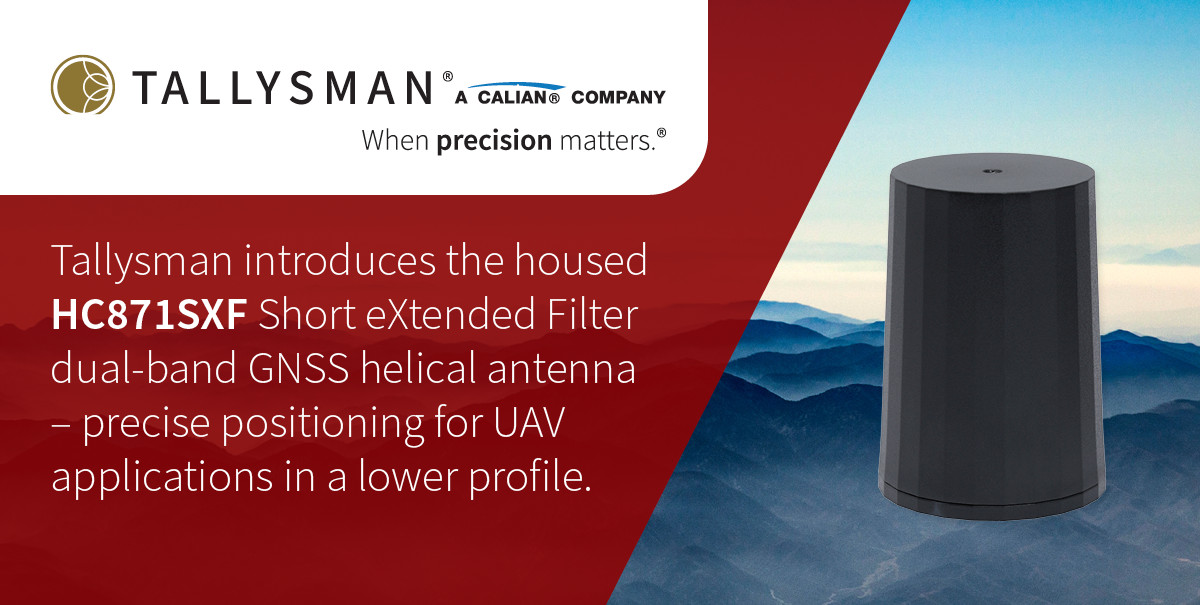 ---
(Ottawa, Ontario, Canada, May 3, 2023) Tallysman® Wireless Inc. is excited to announce the dual-band low-profile HC871SXF to its industry-leading line of helical GNSS antennas.
The dual-band GNSS HC871SXF helical antenna is designed for precise positioning, covering the GPS/QZSS-L1/L2, GLONASS-G1/G2, Galileo-E1, and BeiDou-B1 frequency bands, including the satellite-based augmentation system (SBAS) available in the region of operation [WAAS (North America), EGNOS (Europe), MSAS (Japan), or GAGAN(India)].
The HC871SXF has a precision-tuned, high-accuracy helical element that provides an excellent axial ratio and operates without a ground plane. These features make the HC871SXF ideal for lightweight, unmanned aerial vehicle (UAV) navigation and a wide variety of precision applications.
The HC871SXF low-profile helical antenna is approximately 10mm shorter than the HC871 and provides the same great performance. It is packaged in a very light (23 g) and compact form factor (34 mm wide and 54 mm tall). The antenna base has a male SMA connector. To facilitate installation, the base also has two threaded inserts and an O-ring to waterproof the SMA connection. Tallysman provides support for installation, integration, and optimization to ensure optimal antenna performance.
The HC871SXF antenna supports Tallysman's eXtended Filtering (XF) technology. The radio frequency spectrum has become congested worldwide as many new LTE bands have been activated, and their signals or harmonic frequencies can affect GNSS antennas and receivers. In North America, the planned Ligado service, which will broadcast in the frequency range of 1526 to 1536 MHz, can affect GNSS signals. Similarly, new LTE signals in Europe [Band 32 (1452 – 1496 MHz)] and Japan [Bands 11 and 21 (1476 – 1511 MHz)] have also affected GNSS signals. Tallysman's XF technology mitigates all these signals.
Trust Tallysman to provide clean and pure GNSS signals in a noisy RF world.
About Tallysman
Based in Ottawa, Canada, Tallysman® is focused on high-precision GNSS and Iridium antenna design and manufacturing. Tallysman® is known for its Accutenna®, VeraPhase®, VeraChoke®, VeroStar™, and Helical antenna innovations. These technologies have provided accuracy and precision that exceed customer expectations.