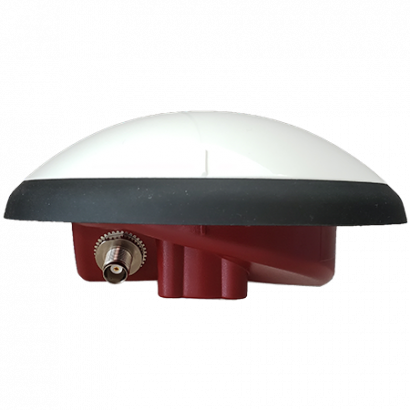 VSP6037L-MAR VeroStar™ Marine Full GNSS Precision Antenna +L-Band
Antennas
Coverage
GPS/QZSS-L1, GPS/QZSS-L2, GPS/QZSS-L5, QZSS-L6, GLONASS-G1, GLONASS-G2, GLONASS-G3, Galileo-E1, Galileo-E5a, Galileo-E5b, Galileo-E6, BeiDou-B1, BeiDou-B2, BeiDou-B2a, BeiDou-B3, NavIC-L5, L-band correction services
Mount
Standard Survey Mount
Amplifier Gain
37 dB typ.
Connector Options
TNC Female
Back to Antennas
Overview
The light and compact patent-pending VeroStar™ VSP6037L-MAR antenna is designed for high-accuracy positioning while being robust and reliable. This antenna employs Tallysman®'s unique VeroStar™ technology, providing high gain over the full GNSS spectrum: GPS/QZSS-L1/L2/L5, QZSS-L6, GLONASS-G1/G2/G3, Galileo-E1/E5a/E5b/E6, BeiDou-B1/B2/B2a/B3, and NavIC-L5, including the satellite-based augmentation system (SBAS) available in the region of operation [WAAS (North America), EGNOS (Europe), MSAS (Japan), or GAGAN (India)], as well as L-band correction services.
Features
Tight phase centre variation (± 2 mm typ.)
Low axial ratios from zenith to horizon
Low roll-off from zenith to the horizon
Superior low-elevation L-Band correction reception
High G/T at low elevation angles
Invariant performance from 3.0 to 16 VDC
Low current (50 mA)
Low noise figure (1.8 dB)
Light, compact, and robust design
IEC 60945 and IEC 61108 compliant
IP69K, REACH, and RoHS compliant
Benefits
Excellent mitigation of Iridium & Inmarsat interference
Consistent performance across all frequency bands
Excellent GNSS tracking from low elevation angles
Extreme accuracy and precision
Excellent multipath rejection
---
Details
With an exceptionally low roll-off from zenith to the horizon, each VeroStar antenna provides the best-in-class tracking of GNSS and L-Band correction signals from low elevation angles. In addition, the optimized axial ratio at all elevation angles results in excellent multipath rejection, thus enabling accurate and precise code and phase tracking of GNSS and L-band correction signals. Also, a wide-band spherical antenna element enables VeroStar antennas to deliver a ±2 mm phase centre variation (PCV), making them ideal for high-precision applications, such as maritime positioning, autonomous vehicle navigation (land, sea, and air), and smart survey devices.
Each VeroStar antenna features a robust pre-filter and high-IP3 LNA architecture, minimizing de-sensing from high-level out-of-band signals, including 700 MHz LTE, while still providing a noise figure of only 1.8 dB. The VSP6037L-MAR antenna's filters also fully attenuate interference from Iridium and Inmarsat signals, providing 75 dB to 85 dB of attenuation over Iridium downlink (1616 – 1626 MHz ) and 85 dB to 95 dB over Inmarsat uplink (1626 – 1660 MHz), making this antenna ideal for marine vessels.
The housed antenna, featuring an integrated rubber bumper to absorb routine impacts, has passed a battery of tests (water pressure, altitude, salt fog, shock, drop, and vibration) to ensure it can survive the rigours of day-to-day field use.
The unique features of the VeroStar antenna guarantee it can deliver a high signal-to-noise ratio (SNR) and highly accurate and precise code and phase tracking of GNSS signals from all elevation angles in the most challenging environments.
---
Drawings