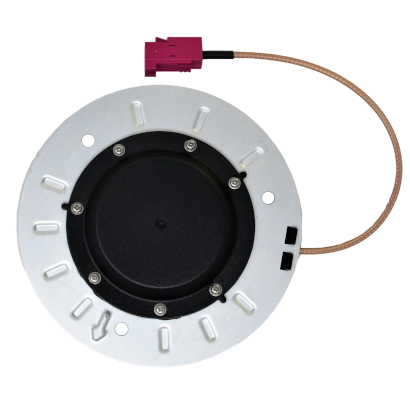 TWA928L AccuAuto Embedded Autonomous Vehicle Triple-band GNSS Antenna + L-band
Antennas
Coverage
GPS/QZSS-L1, GPS/QZSS-L2, GPS/QZSS-L5, GLONASS-G1, GLONASS-G2, GLONASS-G3, Galileo-E1, Galileo-E5a, Galileo-E5b, BeiDou-B1, BeiDou-B2, BeiDou-B2a, NavIC-L5, L-band correction services
Amplifier Gain
28 dB typ.
Connector Options
Many Options, Please Inquire
Back to Antennas
Overview
The patent-pending TWA928L antenna employs Tallysman's unique Accutenna® technology, providing high gain over GPS/QZSS-L1/L2/L5, GLONASS-G1/G2/G3, Galileo-E1/E5a/E5b, BeiDou-B1/B2/B2a, and NavIC-L5, including the satellite-based augmentation system (SBAS) available in the region of operation [WAAS (North America), EGNOS (Europe), MSAS (Japan), or GAGAN (India)], as well as L-band correction services.
Features
Integrated ground plane
Light, compact, and robust design
Low noise preamp < 2.5 dB typ.
Axial ratio: < 2.0 dB typ.
Tight phase centre variation (PCV)
High-gain LNA: 28 dB typ.
Low current (30 mA)
Low noise figure (2.5 dB)
ESD circuit protection: 15 kV
Invariant performance from 2.5 to 16 VDC
IP67, REACH, RoHS, AEC compliant
Benefits
Excellent multipath rejection
Increased system accuracy
Excellent signal-to-noise ratio
---
Details
The Tallysman® TWA928L AccuAuto Embedded Autonomous Vehicle antenna has been designed to meet the demanding needs of the autonomous vehicle market. It features a patented Tallysman® Accutenna® technology multi-constellation and multi-frequency antenna element. This antenna features an integrated ground plane, radome, and underside cover that provides mist and condensation protection. The bottom cover also supports the antenna cable and mitigates cable vibration to ensure the antenna has a long service life, while the ground plane improves antenna performance. All TWA928L electronic components are Automotive Electronics Council (AEC) certified, designed to perform under the most challenging environmental conditions, such as extreme temperatures (-40 °C to +125 °C) and continuous shock and vibration.
Filtering out-of-band and in-band radio frequencies is a key requirement of a high-quality antenna. To prevent out-of-band noise from saturating the antenna, the TWA928L has a deep pre-filter. This feature enables reliable GNSS signal reception in challenging urban environments where inter-modulated signal interference from LTE and other cellular bands is common.
Other key components are precision-tuned, twin circular dual-feed (Patented Accutenna® Technology), stacked patch elements. The signals from the two orthogonal feeds are combined in a hybrid combiner, amplified in a wide-band LNA, then band-split for narrow filtering in each band and further amplified prior to recombination at the output. These features allow the TWA928L antenna to offer an excellent axial ratio, enabling multipath mitigation, leading to a very tight antenna phase center.
Tallysman®'s TWA928L antenna is ideally suited for Real-Time Kinematic (RTK) and Precise Point Positioning (PPP) positioning, for autonomous vehicle navigation and guidance, and other applications where accuracy and precision matters.
---
Drawings