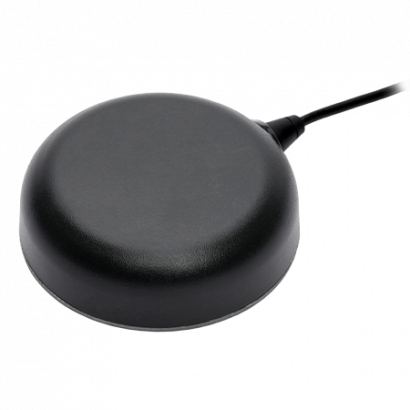 TW5262 Multi-Constellation Smart GNSS Antenna with UDR
Coverage
GPS/QZSS-L1, GLONASS-G1, Galileo-E1, BeiDou-B1
Mount
Surface Mount / Magnet
Overview
The TW5262 is a multi-constellation GNSS Receiver/Antenna fused with inertial sensor data. It is an easy-to-use tracking solution that enables high-performance positioning in places where GNSS signals are poor or not available.
The TW5262 incorporates a latest-generation GNSS receiver that supports simultaneous GPS/GLONASS/Galileo reception and a Tallysman's Accutenna™ patch antenna. This dual-feed antenna greatly improves rejection of multipath signal interference, making it the most precise antenna for tracking in dense urban environments.
Features
Complete positioning solution with integrated 3D sensors
Positioning accuracy in dense cities and covered areas
Independent of any sensor connection to the car
5V-36V automotive operation
Excellent multi-path signal rejection
Industrial-grade IP67 enclosure
RoHS, REACH, RED compliant / CE marking
---
Specifications
Untethered Dead Reckoning (UDR)
The TW5262 Untethered Dead Reckoning (UDR) technology provides continuous navigation without requiring speed information from the vehicle. This innovative technology brings the benefits of dead reckoning to installations previously restricted to using GNSS alone, significantly reducing the cost of installation for Dead Reckoning applications.
The strength of UDR is particularly apparent under poor signal conditions, where it brings continuous positioning in urban environments, even to devices with antennas installed within the vehicle. Useful positioning performance is also available during complete signal loss, for example in parking garages or short tunnels. UDR positioning starts as soon as the ignition signal is applied and before the first GNSS fix is available.
The TW5262 may be installed in any position in a vehicle without an electrical connection to the vehicle speed sensor. The onboard accelerometer and gyroscope sensors result in a self-contained UDR, which is self-calibrating and provides reliable and consistent navigation.