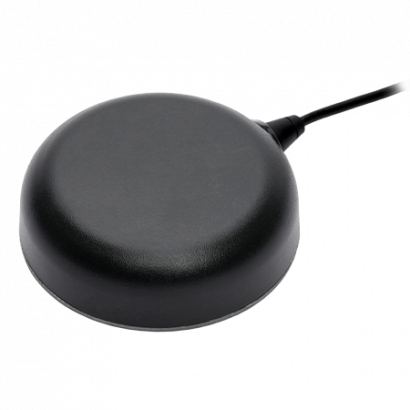 TW5252 Multi-Constellation Smart GNSS Antenna
Coverage
GPS/QZSS-L1, GLONASS-G1, Galileo-E1, BeiDou-B1
Mount
Surface Mount / Magnet
Overview
The TW5252 is a multi-constellation GNSS Receiver which provides simultaneous GPS/GLONASS + SBAS reception. It is designed for use in professional grade digital tracking/ positioning applications.
The TW5252 employs Tallysman's Accutenna™ dual feed antenna patch technology which greatly improves rejection of multi-path signal interference across the whole GNSS band. The addition of pre- and post-filtering within the RF signal chain greatly improves immunity to jamming carriers typical within urban environments.
Features
Multi-constellation receiver/Antenna
Concurrent tracking of 3 constellations
72 Channel simultaneous operation
High-performance tracking (-164 dBm)
WAAS, EGNOS, MSAS & GAGAN + QZSS
DGPS corrections using RTCM input
Navigation rates 1 to 5 Hz
Conditioned ignition input for Tait Radios
5V to 36V automotive operation
AccutennaTM Technology
Pre- and Post- LNA filtering
Superior multi-path signal rejection
Industrial grade IP69k enclosure
RoHS, REACH, RED-compliant CE marking
---
Specifications
The TW5252 GNSS Smart Antenna uses a state of the art multi-constellation GNSS receiver which provides 72 high sensitivity tracking channels which can be configured to acquire and track 3 concurrent GNSS constellations (GPS, Galileo, GLONASS and Beidou) plus SBAS (WAAS, EGNOS, MSAS and GAGAN) and QZSS augmentation signals simultaneously. Differential GPS corrections may also be supplied via RTCM formatted corrections messages.