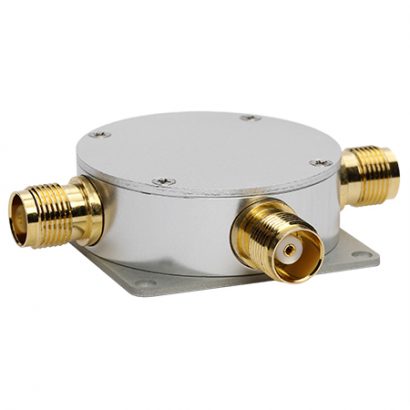 TW150 Signal Splitter
Signal splitters, Accessories
The TW150 is a 1 to 2 L-Band Signal Splitter, suitable for a wide range of L-Band and all GNSS bands.
Back to Signal splitters
,
Back to Accessories
Overview
The TW150 is a professional grade 1 to 2 L-band signal splitter, suitable for supporting the full GNSS frequency bandwidth.
Features
1 to 2 GHz operating frequency
Low insertion loss 1.0 dB @ 2 GHz
VSWR <1.25 typ.
Max pass through current 200 mA
50 Ohm port impedance
Clear anodized IP67 aluminum housing
Gold-plated SMA or TNC Jack connectors
RoHS Compliant
Benefits
Compact form factor
Allows use of two GNSS receivers to share one antenna
Fits in-line with antenna cable
Robust design
Suitable for harsh environments
---
Details
The TW150 splitter permits two GNSS receivers to operate on one antenna, by allowing the DC voltage source to pass through Port 2 but blocked on Port 1.
The TW150 is housed in a robust  clear anodized aluminum enclosure and is available with 3 x gold-plated SMA or TNC Jack (female) connectors.
---
Specifications
Bandwidth: 1 – 2 GHz
Supply Volts: 18 VDC max
Current: 200
_