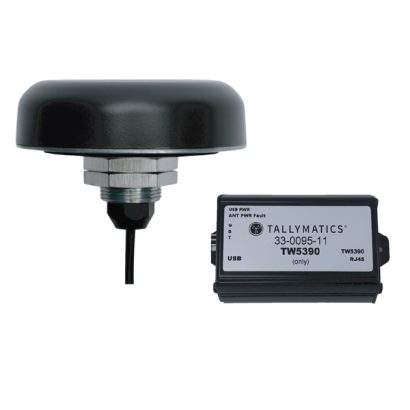 TruPrecision Mobile Asset Tracking
Overview
Your application depends on <10 cm precision without network coverage. We get you there quickly, reliably and repeatedly.
Today's mobile applications are increasingly mission-critical and autonomous … progressively requiring centimetre precision in real-world environments like precision agriculture.
Combining its world-class antenna technology with u-Blox's dual frequency receivers using PointPerfect® PPP-RTK corrections via IP networks OR L-Band satellite signal, Tallysman® delivers precise positioning performance in a compact industrial IP-rated package. The TruPrecision SDK application connects PointPerfect IP corrections and decryption keys to a TW5390 to quickly deliver corrected output position data for seamless integration into existng geodetic software platforms.
TruPrecision SDK includes:
Tallymatics TW5390 Dual Frequency Precision Smart Antenna/Receiver with L-Band receiver 
Tallymatics TW5390 USB Serial Bridge (33-0095-11) 
Tallymatics TruPrecision Application for PointPerfect IP correction streaming
60-day trial subscription to the PointPerfect augmentation service
Ordering Information: 33-TP5390SDK-0 TruPrecision TW5390 SDK
The TruPrecison SDK application is a Windows service which provides an autonomous connection to stream PointPerfect IP corrections and decryption keys to the TW5390 Smart Antenna via the USB Serial Bridge (33-0095-11), which also provides a Virtual COM Port to allow customers to connect their existing applications to the TALLYMATICS receiver high precision "corrected" position data output. The position data may be either NMEA or UBX formatted messages.