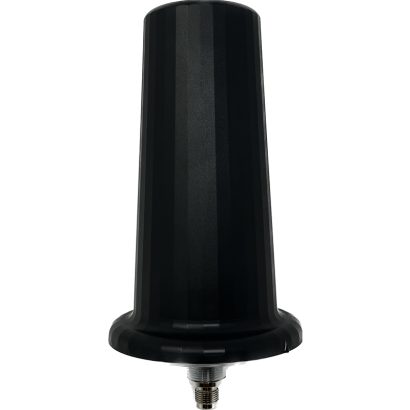 AJ977XF AntiJam Triple Band GNSS Antenna
Antennas
Coverage
GPS/QZSS-L1, GPS/QZSS-L2, GPS/QZSS-L5, GLONASS-G1, GLONASS-G2, GLONASS-G3, Galileo-E1, Galileo-E5a, Galileo-E5b, BeiDou-B1, BeiDou-B2, BeiDou-B2a, NavIC-L5
Amplifier Gain
40 dB typ.
Connector Options
TNC/N-Type (Female)
Back to Antennas
Overview
The AJ977XF supports GPS/QZSSL1/L2/L5, GLONASS-G1/G2/G3, Galileo-E1/E5a/E5b, BeiDou-B1/B2/B2a, and NavIC-L5 frequency bands, including the satellite-based augmentation system (SBAS) available in the region of operation [WAAS (North America), EGNOS (Europe), MSAS (Japan), or GAGAN (India)].
The AJ977XF Anti Jam antenna is designed to mitigate interference and jamming signals broadcast from near ground-based transmitters. The radiation pattern of the Low Elevation Angle Nulling Antenna (LEANA) provides 20 dB (Typical) wideband suppression for all GNSS band signals received at an elevation angle of 0° through to approximately 15°. This level of attenuation will mitigate a 600 Watt jamming signal broadcast at an elevation angle of 10°, 100m or greater away from
the AJ977XF antenna. The combination of Tallysman's low elevation angle nulling radiation pattern, and eXtended Filtering (deep filters and high IP3 (prevents saturation in the presence of noise)) technologies provides a one-two punch to jamming and radio frequency noise. At the same time, the AJ977XF's radiation pattern above 20° elevation angle provides excellent gain and a phase center that supports accurate and precise positioning.
Tallysman's eXtended Filter (XF) antenna technology has been designed to mitigate out-of-band signals and prevent GNSS antenna saturation. In North America, Ligado signals at 1525 – 1536 MHz can especially impact GNSS antennas that support space-based L-band correction services (1539 – 1559 MHz). New LTE signals in Europe [Band 32 (1452 – 1496 MHz)] and Japan [Bands 11 and 21 (1476 – 1511 MHz)] have also been observed to interfere with GNSS signals. In addition, Inmarsat satellite communication (uplink: 1626.5 – 1660.5 MHz) can also affect GNSS signals. Tallysman's custom XF filtering mitigates all existing signals and new Ligado and LTE signals, enabling the antennas and attached GNSS receivers to perform optimally.
The Tallysman AJ977XF antenna is ideal for all mission-critical positioning, navigation and timing applications.
Features
Great axial ratio (1.0 dB typ.)
Low LNA noise (2.5 dB typ.)
High-rejection XF Filtering
High-gain LNA (40 dB typ.)
Wide voltage input range (2.5 to 16 VDC)
ESD circuit protection (15 kV)
IP67 weather-proof housing
RoHS and REACH compliant
20dB attenuation at 0-15° Elevation
Details
Operates under ground-based jamming
Circular polarisation throughout the full bandwidth
Superior multipath signal rejection
Excellent signal-to-noise ratio
Excellent out-of-band signal rejection
Increased system accuracy
Ideal for noisy RF environments