Innovelec Announced as 2021/2022 European Top Distributor by Tallysman Wireless
October 31, 2022

---
(Ottawa, Ontario, Canada, Oct. 31, 2022) Tallysman Wireless Inc., a Calian Group Company, has awarded Innovelec Solutions the 2021/2022 Top Performing Distributor Award for the United Kingdom and Europe region. This annual award is presented as recognition for outstanding sales and service achievement. Innovelec Solutions are a top "Gold Level Tallysman Precision Partner" and have a very long-standing relationship that spans over 10 years, proving hugely successful for both companies.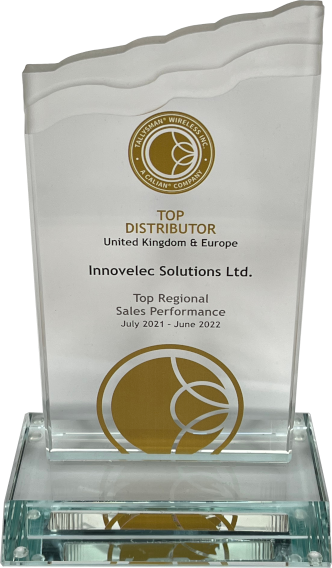 "Innovelec Solutions has an amazing team and continue to deliver year after year. From pre-sales engineering, fulfilment, and post sales support, their responsive attitude and determination to drive business have been our basis for a strong and long-lasting friendship. The result has been a positive business partnership for both Innovelec Solutions and Tallysman, allowing both companies, as a team, to provide the best technical and commercial GNSS solutions to our customers."

– Christopher Russell, Vice President of Sales, Tallysman Wireless Inc.
Tallysman are part of the Calian Group, providing solutions that help the world communicate, learn, lead healthy lives, and stay safe. Tallysman® is a developer, manufacturer, and provider of GNSS, Iridium antennas and accessories in support of our customers who are engaged in a broad range of satellite-based positioning, navigation, and data applications. Tallysman is known for its Accutenna® and VeraPhase®technology, as well as the more recent VeroStar and Helical innovations. These technologies have proven themselves to provide the highest performance antennas (low axial ratios, high multi-path signal rejection, tight PCV) in their size and weight while setting lower economic price points. Tallysman's antennas are the antennas of choice for a wide variety of applications.
"For the fourth consecutive year, Innovelec Solutions have won the Tallysman Top Performing Distributor Award despite turbulent market conditions and other challenges within the industry. Our long-standing relationship with Tallysman has enabled us to build a wealth of knowledge to support our customers and add value at every step of the design-in process. This is reflected in continued growth with many new customers, and the repeat business we have with our existing customer base. Tallysman continue to innovate and offer the best price/performance antenna solutions on the market today. The team at Innovelec continue to be excited with the new emerging products. We look forward to a very successful 2022/23."

– Martin Newman, Sales Director, Innovelec Solutions.
Innovelec Solutions are the longest-standing channel partner working with Tallysman across Europe, specializing in bringing the latest GNSS technologies to market. We pride ourselves on working with innovative, synergistic, top-class suppliers to deliver world-class semiconductors, sub-assemblies, plug-in boards, and total solutions from around the world.